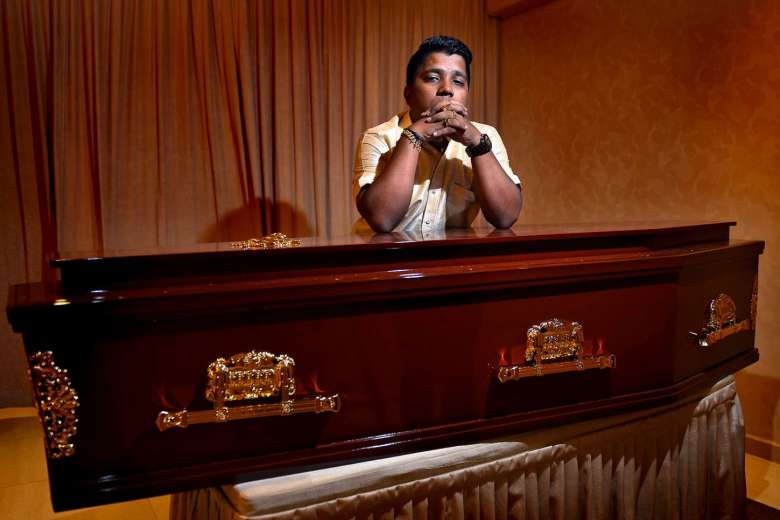 SINGAPORE (THE NEW PAPER) – These foreign workers leave their homeland with hope, but tragically, return in a coffin
Or sometimes, as ashes in an urn.
These are the worst cases because when the remains are cremated, it usually means the bodies have been badly mutilated, according to Mr Khanthan Vithilingam, 27.
"Those are the saddest cases, when the family can't even get the body back to grieve," said the funeral director of Singapore Indian Casket Services.
This year alone, there have been 48 deaths from workplace accidents.
For many, that number is just another statistic, but Mr Khanthan is all too aware that each one is a sad tale of shattered hopes and dreams.
When a foreign worker dies in Singapore, the employer has the responsibility of sending his or her body back, bearing the cost.
They engage a casket service like that of Mr Khanthan's, which prepares the documentation and the body, and sends the body to the family for a fee of about $5,000.
He told The New Paper that such cases are heartrending, even for someone like him who deals with death on a daily basis.
"These people come here to sacrifice their lives for the well-being of their families… Then (they) die far away from their loved ones."
Mr Khanthan said he is able to send the bodies back to families in most parts of South-east Asia as he has partnered with funeral directors in several other countries.
In Chennai, India, he works with funeral director S. Ravikumar, 42, who has been in the business for 16 years.
Mr Ravikumar said that each time he delivers the body of a worker who has died overseas, "it is heartbreaking".
The tragedy, he said, is that many of the facilities he has handled are men in their prime who were working for their children, wives and parents.
"In Indian society, parents wish to have their sons perform their last rites for them. But to have the tables turned, to see their own son's body, they just break down," he explained.
He added that there were times when he also shed tears.
Mr Ravikumar said the loss for these families is "devastating".
"The family members not only lose their source of income, but a part of themselves," he said.
Mr Khanthan handles about five cases of foreign worker deaths here each month.
He said the majority of these deaths are due to causes such as ill health.
He estimated that about five cases he sees each year are deaths from workplace accidents.
ON THE RISE
"It seems like the deaths from workplace accidents are on the rise," he said.
And the numbers show that they are.
The number of workplace deaths in the first half of this year has spiked, and the authorities have implemented stiffer penalties for safety breaches.
But what really gets Mr Khanthan worked up is when the deceased are not treated with respect.
He explained: "You want to get them back to their families as soon as possible. But some employers call different casket services from morning till evening, then try to haggle for a lower price."
He recounted how one company contacted him at 10am, asking for a price quotation.
The same company then called back at 6pm, saying another casket service had quoted it a better price, and asked if Mr Khanthan could lower his.
"I was very angry, as well as saddened that arrangements had not yet been made. I told them, this is someone who has already passed on, we have to make the arrangements immediately," he said.
"Silly negotiations like that cause delays that could result in flights being missed and the repatriation being delayed for days."
Mr Khanthan said that when a worker dies, his company will try to collect the body from the mortuary as soon as possible.
"It takes about 10 hours to embalm, dress and seal the body in a coffin."
The sealing is certified by the casket service, and the certificate, as well as the deceased's passport and death certificate, is brought to the National Environment Agency (NEA).
A permit to export the body is then issued by the NEA, and this permit is brought to an embassy or consulate along with all the other documents.
It is only after the embassy or consulate issues a letter of clearance that the casket service can book a flight to take the body home.
All this paperwork can take up to 3½ hours.
Because of this tedious process, Mr Khanthan now tells companies that try to haggle with him that he will make the arrangements and accept whatever amount they want to pay him.
"No matter who you are, or what kind of life you've lived, everyone deserves a dignified funeral," he said.